HELP : Treadmill is slippery !
Although Joost likes running outside, he bought a second hand treadmill for indoor running. This time he don't have any excuse to not to practice running. Because the person who sold the treadmill didn't have any clue regarding cleaning and countenancing the treadmill, Joost had to do the job.
During a test run Joost noticed that the belt was slipping. This could mean some things.
First of all he did clean and lubricate the bed of the treadmill with Silicon lubricant. There are some "special" lubricants, but in this case it will do the job.
To clean the bed, just use a towel between the belt and bed. It's hard to get an opening between the belt and bed and for a good lubrication, you can use a special small tube to reach under the belt. When finished set the speed at 5 km/h for about 5 minutes, just to make sure the lubricant is everywhere. Don't use the belt right now.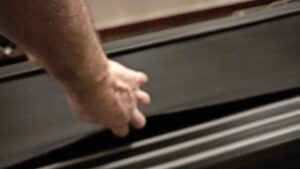 This is something you will have to do once a month !
The running wasn't still comfortable, so it could also be an adjustment of the motor belt could also need adjustment. Remove the motor cover (Be careful, there can be electrical shock if you still have the treadmill connected to the power grid and you are stupid enough to tough a wire !
First loosen the bolts of the motor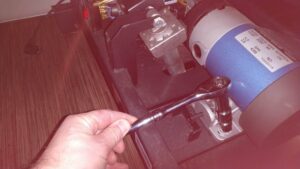 Then you can adjust the motor belt. Don't put too much tension on the belt.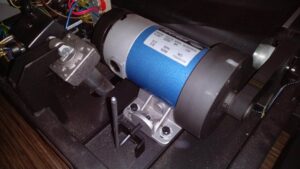 And the last thing to adjust was the belt itself. Again, don't put too much tension on the belt otherwise the belt can be damaged.
If you are afraid to adjust the belts, just ask an expert to do the maintenance.
And now the treadmill is good enough to run easily 13 km/h without any problems. Hooray
Am I a runner ?