A question which I hear on a regular basis is: What are the best practices for HyperFlex? On cisco.com there is a document with a lot of best practices for HyperFlex [LINK]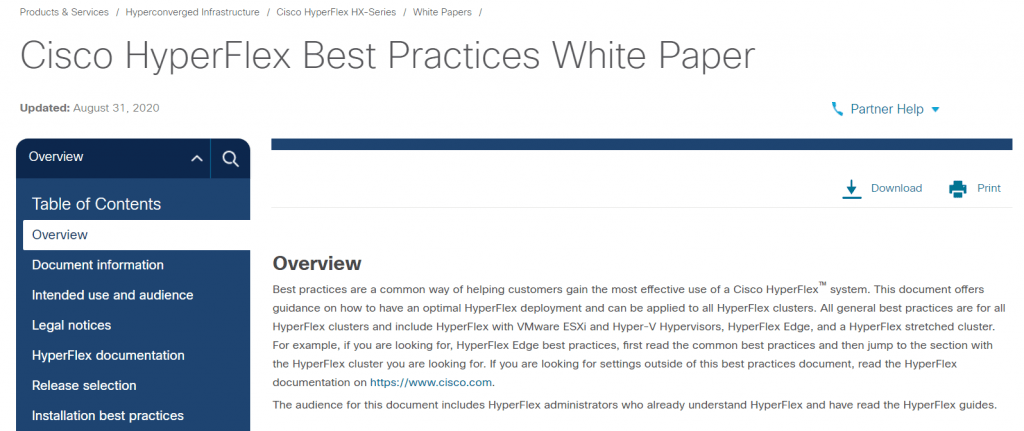 What are best practices and why do you want to have them?
When there is a guidance to the right direction, this will make life easier and everybody loves an easy life. Guidelines are often described as best practices. If those guidelines are well documented than basically that are also the best practices.
My Personal Best Practices
Since Jan 2016 I have experience with HyperFlex. One tip I am always sharing to everybody is : Read The Freaking Manuals!
Always have a plan before you do something. Document the steps you're going to do and try to do a dry run. Is it working? What are you missing?
During Cisco Live 2018 in Barcelona and Orlando I did a Technical Seminar about HyperFlex. Read the manuals was my mantra. If you are doing it in a different way, that is your choice. Maybe you can come up with your own solution or best practice.
Okay. Some HyperFlex Best Practices
Sign up at the Cisco Notification Portal. This way you will receive information about software updates, bugs, field notices etc.
Use the Cisco HyperFlex Sizer Tool. The User Interface has changed but it's still the same awesome tool.
Deploying Multiple HyperFlex clusters under the same Fabric Interconnect is possible. You don't need new FI's for each HyperFlex Cluster. For example, you can have an All-Flash HyperFlex cluster with GPU and an All-NVMe HyperFlex cluster connected to the same FI without any problems, as long as you keep the VLANs and Org names unique.
Use Replication Factor 3. Data is very important. Make sure your data is save by having backups and to have a smaller RPO and RTO use an RF of 3.
Bookmark Cisco HyperFlex Guides. Now you have a place to start to search for the right HyperFlex documentation.