Hyperconverged Infrastructure typically uses rack servers. Rack servers have the capability of enough disk space and additional cards, like GPUs.
VMware VSAN is currently the market leader in hyperconverged Infrastructure software, and would it be nice to have it run on a sustainable, award-winning solution like UCS X-Series?
Think of all the advantages of the UCS X-Series over a rack server. But what about the disk capacity and disk groups?
UCS X-Series chassis advantage
UCS X-Series is the new chassis with a max of 8 nodes in the chassis. If you want more information, please go to: https://cisco.com/go/ucsx.
What are the critical points of the UCS X-Series?
Performance: Although the CPU and memory are commodities, the system is designed to perform best with different CPUs and workloads.
Scalability: With the UCSX Chassis, you can have eight nodes in a 7u chassis, AND there is the disaggregation of the GPUs with a node via a PCI node. If more bandwidth is required, only an upgrade of the Intelligent Fabric Module (IFM) is needed.
Manageability: It is easy to manage via Intersight. One tool for all your UCS X-Series chassis, wherever they are.
Security: UCS X-Serie nodes have different kinds of security, like TPM or SED.
Sustainability: The UCS X-Series won the 2023 SEAL Sustainable Product Award, which is impressive. It is recognized the whole system is sustainable without compromising performance or scalability.
Bundle the power with VMware VSAN.
VMware VSAN is the current hyperconverged infrastructure leader. And if you have the best software and hardware, why not combine them?
The big question is: Can you even run VSAN on an X210c node with limited room for storage?
The answer is short: Yes, there is!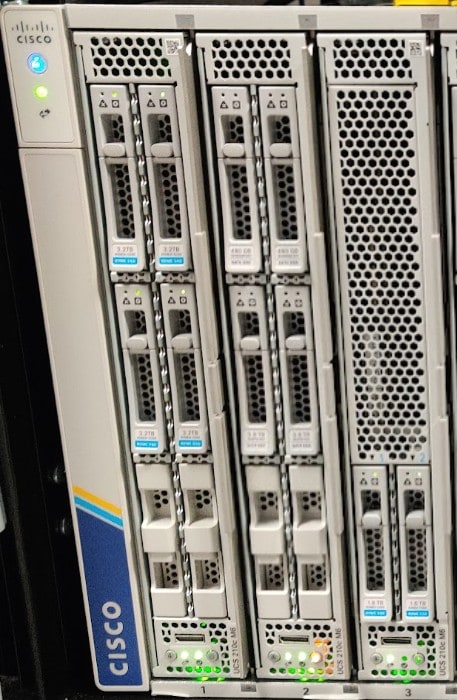 There are different front mezzanines for the UCS X210c.
6x NVMe drives are great for VSAN ESA. The pass-through gives direct access to these drives. This will give you enough capacity and low latency for your applications.
6x SAS Drives with the controller. This gives the option of having 2x NVMe drives. This front mezzanine can be used with VSAN OSA, where the NVMe drives can be used as cache drives and the SAS for capacity.
The VMware compatibility guide contains more information about the UCS X210c nodes and the OSA/ESA configuration.
The UCS X210c M6 and M7 are ReadyNodes for VSAN OSA.
UCS X210c M6 is a ReadyNode for VSAN ESA.
You can look this up in the VMware Compatibility Guide.
In the next blog, you will read more about the ReadyNodes.
Conclusion
If you are looking for a robust and reliable hyperconverged infrastructure solution with the best software and hardware, VMware VSAN running on UCS X-Series is an excellent option.
---