Step 10 : Pass
The last step is 8 hours and it is the hardest to do. Pass the lab is the last step to become CCIE! You work so hard for it and the first time taking the lab is a mystery. What to expect. How will it be?
Do not be nervous and enjoy every minute that you spend during the lab exam. You can even learn during the lab exam.
During the lunch, try to relax. Make some jokes with the proctor or other lab takers. Do not eat too heavy. A light salad, soup and some soda was good enough for me. Try not to think about the questions and do not discuss it with the others. Lunch is 30 minutes and try to relax. If you were stuck at one question, your view can be different after lunch.
The nicest part is when you got an email with the notification that your result is online. Your heartbeat will rise when you open the page and you will yell when you see a PASS. The first time I did not believe it. Even the second and third time I passed a lab it was exciting for me.
The verification tool can be found at : https://ccie.cloudapps.cisco.com/CCIE/Schedule_Lab/CCIEOnline/CCIEOnline?verify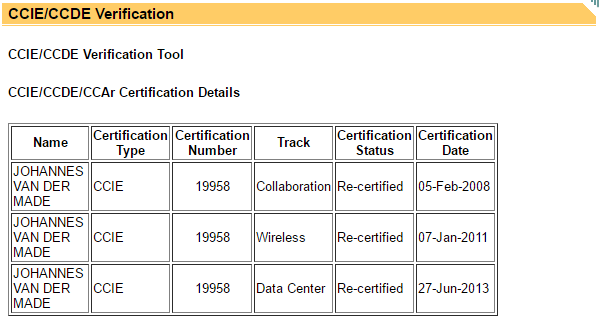 Some names of persons who did pass the CCIE labs can be found at http://www.cciehof.com