Hiking with diabetes
Who am I ?
For a several years I got diabetes and the last 4 years I even got a insulin pump. Hiking is something I really learned in the neighborhood of Las Vegas, NV. I started with small hikes and in august 2016 I hiked the Grand Canyon from the North Rim to the South Rim. It's not a hike you want to do in a day. If you have the time, enjoy the environment in several days. For me, food is also very important on this trip. A normal hiker wants to travel light. Well, I traveled heavy ! I had an airbed, stove, coffeepot, tent, sleeping bag, clean clothes. Even a Philips shaver was part of my backpack.
Prepare for the Hike
Before you start to hike Rim to Rim, you will have to prepare yourself. First of all you will need a permit to hike the Grand Canyon. You can find information at the site : https://www.nps.gov/grca/planyourvisit/backcountry-permit.htm
When you have the permit, you can book a flight and the hotels. I used a rental car to ride from Las Vegas to the Grand Canyon. Don't think it's an hour drive.
Going to the North Rim
Where to park you car when you want to walk from North Rim to South Rim. First I drove to the South Rim and parked my car there. In advance I arranged a reservation at a shuttle bus that drove to the North Rim.
The ride was about 4 1/2 hours with 2 stops. The driver was really entertaining and had a lot of nice stories as long as you keep asking about it. He had a really nice story about the California Condors.
At about 6pm we arrived at the hotel at the North Rim. It was totally full and don't expect to have a spot at the camping either. Make sure you have a reservation in advance. The food was okay and internet can only be found at the camping shop, which closes at 08:00pm
The sunset was really nice ! Make sure you don't miss it.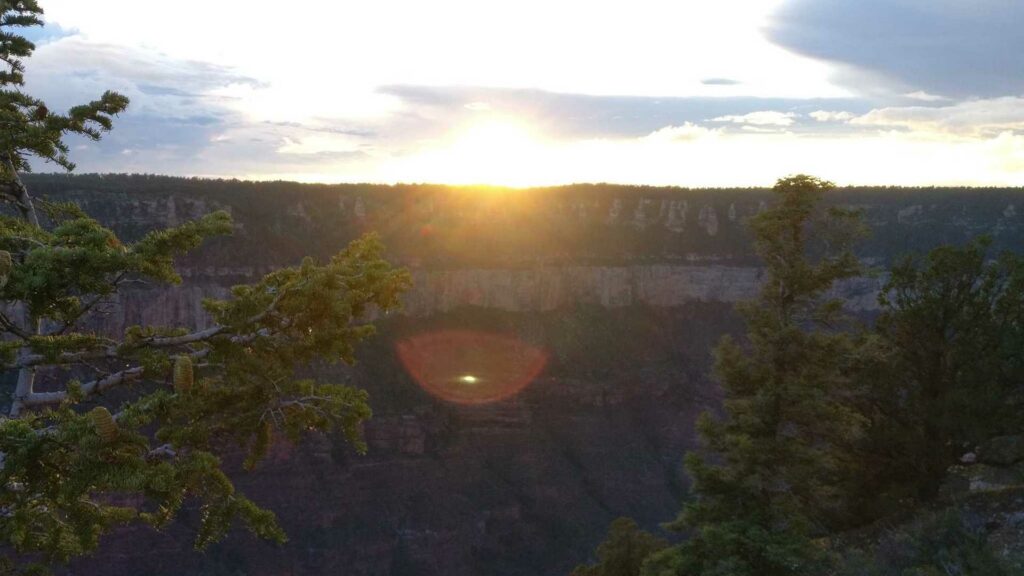 1st day hiking to Bright Angel Camp
I used the 05:30am shuttle to the start of the trail. You will meet some really nice people, but when you start declining make sure you keep your own pace.
My first break with some really nice coffee. 🙂
Don't just hike to finish early. Enjoy the nature. There are a lot of snakes as long as you look around you. Look back from time to time. Normally you only see where you're going. Not where you have been and that can also be very beautiful.
Finally after 7 hours I arrived at Bright Angels camp. And it was hot. Don't think there is a restaurant or something. There is nothing !
It is hotter in the canyon then on the rims ! Make sure you have enough water with you even though there are some drinking points available.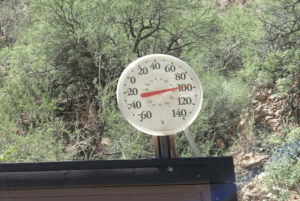 It can be hot in the canyon !
2nd day hiking to Indian Garden
After a nice breakfast of scrambled eggs and fresh coffee, I started at around 08:00 with my 2nd day hike.
The first thing you will see is the Colorado river. What a strength ! Such beauty and power.
The hike was less then 12 km and it took me 3 hour and 20 minutes. Elevation was about 600 meters.
At the campground I was just resting when I heard some noise. There were some small deers ! They were drinking.
Because I hadn't something to do, I hiked to plateau point. A nice walk with some cold drinking water at the end. Here is a video impression of the point. It's so huge, you can't put it on camera.
Plateau Point Grand Canyon
3rd day finishing the hike at the South Rim.
After a good breakfast I started the last part of the hike. I didn't start very early because most of the time the hike was in the shade. You will see a lot of tourists going down unprepared !
Yeah ! I arrived in the morning at my car, so that I had time enough to drive back to my hotel in Las Vegas, NV.
How did I handle my diabetes ?
Hiking with a heavy backpack consumes a lot of energy. So I ate trail mix on a regular basis. I had some stops with thee and sometimes hot meals. I drank a lot of water during the whole day and measured my sugar every break. Use less insulin then normal ! Measure, measure and measure your sugars !