Cisco still develops new SAN FC switches with very nice features.
The Cisco 9132T is a 32 port 32 Gb FC SAN switch. Because of the size it's suitable for SMB, Mid Market and even for ToR SAN switch for enterprise. Everyone can put this fixed switch in their network. You can replace your SAN switches with this devices and step up to the 32 Gb FC standard ! The switch support 4,8,16 and 32 Gb FC.
Cisco proofs that FC isn't dead !
You can start with 16 ports and add 16 ports if you grow.

The expansion module.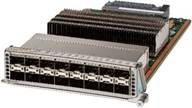 The MDS 9132T got a lot of features and for the full datasheet you can click here.
To have a quick overview of the MDS 9132T, here are some great features. Unfortunally I don't have any 32 Gb FC SAN switch in my lab, so don't hesitate if you can provide me hardware. 😛
Feature 1 : Analytics and Telemetry Capability
The asic n the MDS 9132T is the same asic as the on that is in the 32 Gb module for the MDS 9700. Therefore the MDS 9132T can inspect every FC SCSI header at wire speed. And it doesn't matter what the form-factor is, because it can do this on every flow. Without any external taps or appliance like the competitor ! The switch got 2 ethernet ports and one of them can be used for telemetry and analytics if you want to export the data.
Feature 2 : Diagnostics
The MDS 9132T got all kind of diagnostics on board like network analysis tools, protocol decoding, ISL diagnostics and read diagnostics. By using the Call Home capability you can resolve faster any problem and the service costs will be reduced.
Feature 3 : Virtual Machine Aware SAN
Although this is not a new feature, it's a feature that a lot of people don't know of. Because of this feature, virtual machine awareness can add value due to visibility of the flow and performance of the virtual machines.
More information can be found at : Virtual Machine Aware SAN
Feature 4 : Secure
Security is now a days a big issue. The MDS 9132T protects the system by onboard hardware to protect from malicious attacks on bootloader, system image loader and the JTAG interface.
Feature 5 :Intelligent Network Services
What are examples of intelligent network services ? This about slow-drain detection and isolation. ACL for hardware based intelligent frame processing, smartzoning etc. It's even possible to encrypt the traffic to meet security requirements.
Always a GREAT Feature : API
Cisco is seeing the need for developers. That's why in every product there are very goot REST API capabilities. In the Cisco MDS 9132T this feature is also available and you can automate everything with your powershell, python, javascript of any other language you like.
See other API posts :
Dev-ops rules the world with Cisco NX-OS!
Hyperflex 2.5 API Rest Explorer