I was delighted with my Garmin Fenix 5. There was not much I was missing. When there was a Dexcom G6 widget, I wanted to have it on my Fenix 5, and this feature wasn't available. I had to look for another solution.
For a couple of days, I had the Garmin Venu 2, but I was missing too many features on this watch. It is an excellent watch, though.
Luckily I could return the Venu 2 and upgrade it to a Garmin Fenix 6X Solar.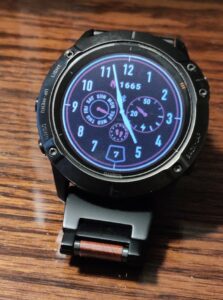 The Fenix 6X has a little bit of a bigger screen, and my advice is to try it on before ordering it. If your wrists are petite, I wouldn't recommend it.
The built-in solar panel charges the watch, giving you a bit more battery life. Currently, I can do easily 14 days with recorded activities every two days, and three weeks on one battery charge is possible!
Extra Features
Here are some extra features that I like about the watch.
First of all, this watch can charge itself by sunlight. Pretty cool! And as you maybe know, I do like solar power. See this post.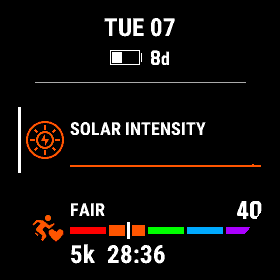 I don't understand the Heat Acclimation feature yet, but at least it is working 🙂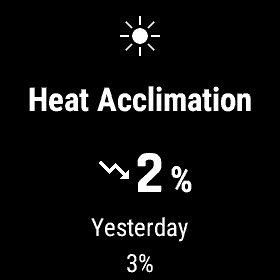 There are soo many other features that are different, as the Pacer Pro. It is different from the Virtual Trainer, and I hope it will help me with the training.
Body Battery
The body battery shows you how much energy there is left in your body. It is calculated by heart rate, stress, etc., and to be honest, the displayed number doesn't say much to me.
Sleep
This watch won't only record your sleep; it calculates a sleep index. The better it is, the more your body battery is charged. There are tips to sleep better.
Suggested Training for the day
When you want to run, it shows you a suggestion about your personal training. I like it, and I am using it. This feature makes sure your runs are in balance.
Training Status
The training status was already there, and now it shows the balance of Low and High Aerobic and Anaerobic. This way, it is possible to be a bit more in balance. When you're running races, this can be out of balance sometimes.
Music
Storage is available to download music and use a Bluetooth headset to listen to the music. I am using Spotify, and here is my 190BPM music.
Pay with the Fenix 6X
Although the Fenix 5 could use it to make wireless payments, that feature did get blocked, and when my bank was supported, it wasn't available anymore.
You can have multiple cards on your watch, and a pin secures it. In the beginning, it is a bit hard to enter the PINs with the buttons, but you will get used to it. Once you enter the pin, you have to use it for a particular time. For me, that time window is enough to do the pin in my car and then pump at the gas station.
Conclusion
The Garmin Fenix 6X Solar has many new features compared to my old Fenix 5, and I am pleased about it.
If you don't mind not having a touchscreen and you like sports, this can be a watch for you.
Downside of this watch is the price and availability.
Garmin 7 is on the corner, so you can wait for the new model or have this Fenix 6X with discount.
---